Apple officially reduced the price of iPhone 13 and iPhone 13 mini, iPhone 12 right after the launch of new products.
The iPhone 14 generation has arrived and with it comes the end of Apple's small iPhone Mini line. Now, its high-end iPhone line has raised the starting price to $ 800 (equivalent to 18.8 million). In fact, this price is the same as the iPhone 13 when it was first launched. Therefore, they are easy to accept even with little hardware upgrades.
Apple slashed prices on older iPhones right at the event.
If iFans do not have enough money to buy the latest 2022 iPhones, they still have the opportunity to buy 2021 or 2020 generation iPhones at a "softer" price.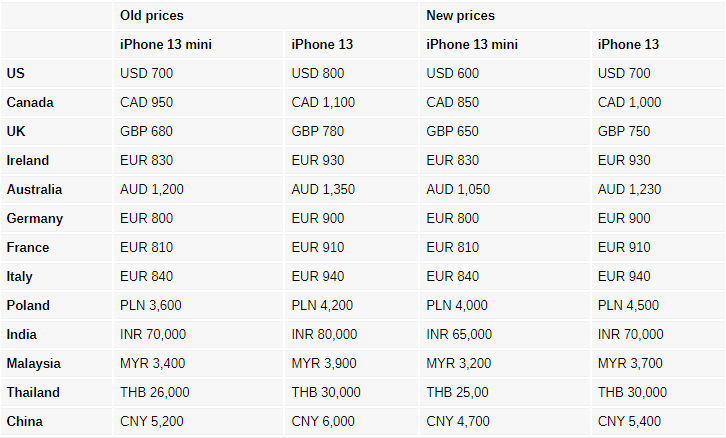 The iPhone 13 and iPhone 13 Mini pairs are discounted.
Currently, the listed selling price of some models of iPhone 13 / iPhone 12 / iPhone 12 Mini has dropped to 100 USD (about 2.3 million VND) on Apple's own online store. Currently, the company has no longer produced iPhone 13 Pro , iPhone 13 Pro Max , iPhone 12 Mini. However, third-party retailers still have stock.
New prices of iPhone 12 and iPhone 13 in markets.
In Vietnam, the price of the iPhone 13 series is recording a sharp decrease, from 2-7 million VND (iPhone 13 Mini 128GB costs 18.79 million VND). The highest reduction belongs to the pair of iPhone 13 Pro Max and iPhone 13 Pro. iPhone 12 also recorded a decrease of up to 4 million VND, only from 15.99 million VND (64GB version).